In Memory
Matthew Posey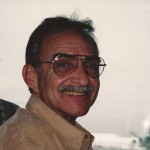 From his Obituary: http://hallfh.com/obituaries/matthew-bensimon-posey/177/
Matt Posey, classic car aficionado, snappy dresser and lover of fine things, died peacefully in his home, October 9, 2014.
He loved to be surrounded by beautiful, smart women. He loved his mother, Esther Posey, a feminist and lover of culture, his sister Janice Posey, a healer and nurturer, His daughters Heather Campbell, Lauren McKim, RN and Kecia Adams,LCSW to whom he taught the value of hard work, loud music and unconditional love. He took pride in guiding them each on their individual journeys and leaves them a legacy of kindness, generosity and a reminder that when you take care of the people around you, you get exponentially more in return. His granddaughters Aja Wheeler and Jordan Adams were treated like his princesses. Even as his days drew to a close, bright light shone in his eyes in the presence of his little girls. He adored his third princess, Miss Chloe, the beloved ball carrying pit bull, and protected her from all of those scary frogs. He met the love of his life Barbara Lake, to which he credits being the only woman who loved him for him, and let him be who he was. This knowing gave him comfort and confidence to travel and laugh and experience the fullness of life that he had placed on the back burner for quite some time.
He collected good men. His father Julian Posey (deceased) instilled in him both the blessing and the burden of hard work, His brother David Posey (and his wife Carla Gray) provided the constant reminder that a life well lived was full of fun. His grandsons, Nathan and Jacob Campbell, Ayden Wheeler, Luke McKim and Jonas Adams, experienced his thirst for fun, and gentle love. His son's in law, Josh McKim, Bob Campbell and Geoffrey Adams received the benefit of his sage advice, sometimes asked for, sometimes not, but always valuable and with love. His best friends Mark Cresap, Jimmy Myers, Alan Pugh and Greg Trout, traveled winding roads alongside him (and sometimes, far behind him) both literally and figuratively. His fellow gearheads in the Southern Comfort Motorcycle club and the Cam Jammers benefitted from his gregarious personality and enduring loyalty.
He was a fair and generous leader. He created not just a successful business but a community as he grew Loudoun Valley Roofing. In the thirty years he lead the team, he shaped not just employees, but extended family. He leaves his capable daughter Heather Campbell to direct Loudoun Valley Roofing into this next chapter.
Visitation will be Sunday, October 12, 2014 at Hall Funeral, Purcellville, VA from 1-3:00 p.m. and 5-7:00 p.m. Services will be Monday, October 13, 2014 at 11am at the Unitarian Universalist Congregation of Frederick, 4880 Elmer Derr Road, Frederick, MD.
If you are so moved, In lieu of flowers, please make a donation in his honor to Loudoun Abused Women's Shelter, 105 E. Market Street Leesburg VA 20716.