Photos and Videos
Our 45th Reunion
Our 45th Reunion and Photos are now available. Please visit our "Photos and Videos" page for further info and links.
I want to thank all the classmates that attended the 45th reunion, including the 4 new classmates that had not been to one before, John Corcetti, Dan Sullivan, Richard Summers and Frank Vito. Hopefully they will return for our future reunions.
---
On July 25, 2015, a few of us got together at the Chesapeake Rod and Reel Club for a great night of fun, drinks, food and reminencing. It was good seeing those classmates who showed up...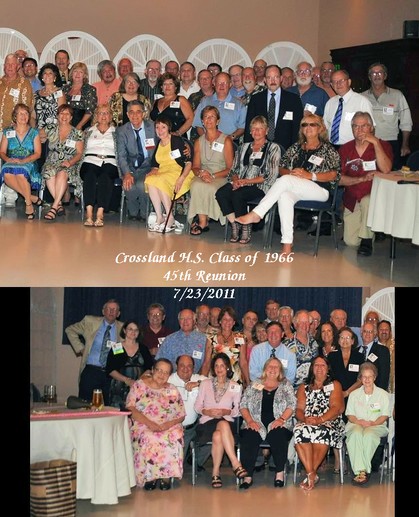 ---
| | |
| --- | --- |
| Phil and Belinda | Courtney and Lou |
| Jerry and Marge | Cheryl and Don |
| Chuck Paglio and Kay Milner | Garland Chow |
| Bill and Lois Ross | |
---
Visit http://crosslandhsclassof66.shutterfly.com/ to access our 45th reunion photos as well as many other photos that we have online.

The link to the three (3) 45th Reunion videos are listed below:
1st Video - Roll-call of those classmates who attended our 45th Reunion. click http://vimeo.com/28551956
2nd Video - A video slideshow of pictures from our class yearbook with some oldies music added for your listening pleasure. click http://vimeo.com/30740253
3rd Video - A walk down memory lane containing various nostalgia happenings that occurred during the 50's and 60's as we were growing up as teens. click http://vimeo.com/26764129
If interested in helping offset our reunion efforts as well as website costs, you can send us a contribution by mailing it directly to Phil or you can use our online contribution process on our Home Page.
VR
Jerry Ballengee