Our 50th Reunion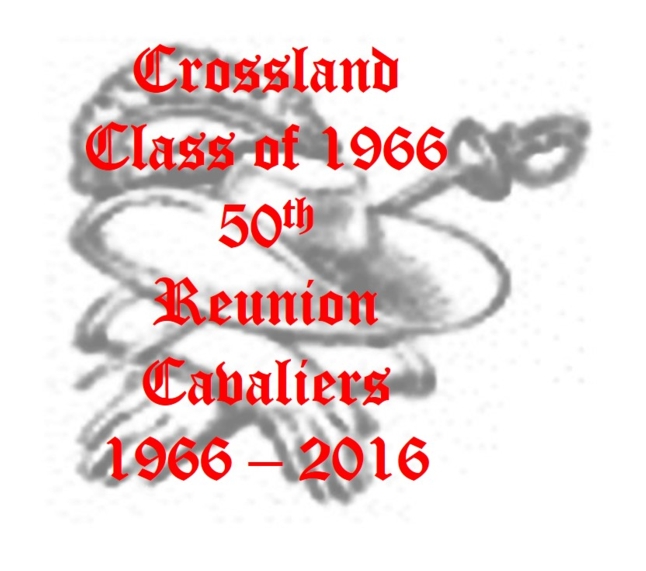 Our Reunion Activities and links to photos
Friday, August 5th, 7pm - till
Evening Social at Boston's Restaurant & Sports Bar
Saturday, August 6th, 7pm-12pm
Reunion Dinner / Dance at Waldorf Jaycees Hall
Sunday, August 7th, 12 noon – till
Cookout at Jerry Ballengee's home
Fellow Cavaliers,
The reunion committee would like to welcome members of the Crossland Class of '66.
The committee has been working hard in preparation for this event to bring together classmates and old friends in hopes this weekend is an enjoyable as well as a memorable one for you.
This weekend we are celebrating 50 years since we walked across the stage at Cole Field House on June 14,1966.
We feel our class to be a special one, as we chose the school colors, the mascot and even designed our class rings, as well as setting some standards and traditions as the FIRST GRADUATING CLASS from CROSSLAND HIGH SCHOOL.
So Cavaliers, once again welcome back!
Phil Saverino, Committee Chairman
Committee Members: Jerry Ballengee, Courtney Clow-Hari, Phyllis Thompson Ziegler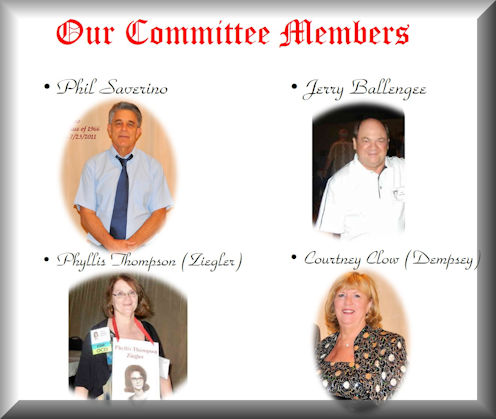 We want to thank everyone who attended the reunion. It was a great turnout with classmates from Florida ,California,GA, SC, NC, Iowa,Texas, NY . It was great to see classmates reunite with friends some we haven't seen since high school. We have such a great class of which I am proud to be a member.
---
These classmates attended our 50th Reunion
John (Jack) Acree, Charles Adamo, Anne Addleman (Kronen), Diane Aley (Kitts), Sandra Allard, Michael Bagley, James Baker, Jerry Ballengee, Michael Baxter, Michael Behre, John Bello, Jill Bennett (Howard), Diane Berrier (Sandler), Diane Biglow, Barbara Bliss, J Larry Blohm, Edmund (Ed) Bowie Jr. , Alvin Bowles, Byron Douglas Braniff, Janice Brewer (McDowell), David Burke, Gary Butler, Douglas Cain, Nancy Cartwright (Clark), Lloyd Chadwick, Horace (Hobie) Chandor Jr., Shira Chernoff (Oler), Garland Chow, Stephen Clark, Courtney Clow (Dempsey), Joyce Evelyn Clubb (Lamantia), Dana Cole, Thomas Collin, Larry Davey, Jay Defibaugh, Raymond Delano, Thomas Devoe, Mary Draheim (Wentz), Ann Marie Dunn (Davey), Adele Eichmann (Eley), Bradford Fisk, Steve Flynn, Thomas Fonner, Jean Forsht (Obrien), Carol Susan Gardner (Sherry), Gary Gardner, Nancy Jean Garlenski, Ernest Gearing Jr., Michael Gentry, John Goebel, Mark Goodman, Mark Goodwin, Patricia Green (Stagg), Dale Griffith, Peggy Haifleigh (Poole), April Hanbury (Vallandingham), Daniel Hanna, Sandra Hardesty (Burch), John Harrison, Russell Hatton, Kenneth Howard, Ronald Hutchinson, Helen (Betsy) Ireland, Ralph Ives, Linda Jenista (Martin), Bruce Johnson, Robert Kaplan, Toby King (duCellier), JoHanna Kinley, Jack LaMay, Leslie Lambert (Eberling), Rebecca Lanham (Shamblen), Shirley Lloyd, Terrie Looney (Baggarly), Helen Masin, Margaret May, Theresa Mayer (Fanone), Darryl "Tank" Meredith, Donald Messinese, Bette Jo Meyer (Adam), Donna Meyers (Eardley), Sandra Moore (Delano), John (Doug) Moran, Frank Morgan, Marc Mugmon, Joseph Myles, Joseph Nairn, Anthony (Tony) Narr, Charles Paglio, Charles Perticari, Richard Porter, Pat Porter (Gingell), Jean Powers (Smith), Paul Purgason, Bonnie Richardson (Grimes), Darla Roach (Purgason), Alice Rodis (Pateras), Phil Saverino, Nancy Sellner (Costello), Daniel Sheehy, Steven Simko, Vickie Sollien (Coleman), Christine Solomon (Brennan), John Solomon, Ronnie Stockman, Donald Stubbs, Dan Sullivan, John Taltavull, Elizabeth Tayman (Shumaker), David Sidney (Sid) Thomas, Phyllis Thompson (Ziegler), Garnet Thorpe, Bill Tipsword, Alan Trimble, Ida Underwood (Ragan), Tom Vaden, Robert Duke Walsh II, Glenn Walton, Jerry Ward, Karen Weller (Doty), Paul Williams, Arthur Wimer
---